August is the best month of the year. Why you might ask? It's the last stop before summer officially closes its doors and everything is perfect up until that moment. The weather is at its peak warmth, summer attire is in full-swing, and there's an entire day dedicated to celebrating women's equality.
Our Create & Cultivate team celebrates women from all walks of life, every day; but this month, we have partnered with our friends at ModCloth to highlight women that inspire us in honor of Women's Equality Day on August 26. To ring in this month of celebration, ModCloth has launched a special capsule collection and campaign called Show Them Who's Boss bursting with nostalgic pieces and 70s vibes.
In addition to their new collection launch, the ModCloth team are releasing a second female-focused initiative with coveted artist Steffi Tsai. She designed a cozy sweatshirt with the words "Elect More Women" emblazoned on the front and a *100% percent of the purchase price from each one sold on ModCloth.com will be donated to She Should Run. Yeah, we know, pretty dang cool.
To help you celebrate Women's Equality Day in style, ModCloth are offering C&C readers 40% off any purchase over $100 when they use the code CREATE40. Visit ModCloth.com to take up this exclusive offer.
With all this fiery female energy and empowering projects in ModCloth's pipeline, we wanted to know more about the fabulous women behind the scenes who are driving this movement. So, we asked a handful of their team members about their career, how they express themselves through fashion, why it's important to buy with purpose, and so much more.
Follow along to see the names, faces, and personalities behind the brand we all know and love—and be sure to scroll to the end to shop our favorite pieces from the Show Them Who's Boss collection.
What does your day in the life at work look like?

Silvia Mazzucchelli, CEO: "Phone calls on the drive to work, meetings, brainstorming, product reviews, more meetings, at-my-desk lunches, taking care of school stuff for my daughter... my day in the life is a multi-tasking frenzy."

Julie Seltzer, Senior Print Designer: "Every day is so different. I work with so many different teams and up to four seasons at a time. There's really no telling what the day will hold. On any one day, I'm designing prints, pulling colors, getting inspired for upcoming collections, working with our designers to choose the best print and color for current seasons, working with our production partners to make sure everything is looking perfect for production, and sending our prints to our partners in marketing for use on the site, in campaigns, and in stores."

Lizz Wasserman, VP, Fashion: "Most days are a mix of meetings, from the big ones (trend presentations, season presentations) to the medium (exec team, business reviews, team meetings) to small (touch-bases and quick check-ins on fabrics, prints, colors, styles). And then there is usually late night catching up on email and working on docs/presentations."

Cecilia Aranez, Creative Services Director: "Every day is different (which I love). A mix of meetings and creative problem solving with the team."

Angela Liu, Senior Manager of Social Media: "Before I even head into work, I typically check my calendar so that I can get a good sense of what to expect from my day. As soon as I get into the office, I skim through all of our social media channels to make sure the morning posts are up. I have a check-in with my social media specialist and from there, I open my emails and scan for anything that needs my attention. The rest of my day-to-day really varies, but I think that's the beauty of working in marketing.
"Some days I'm in meetings with our creative team to talk through social content we produce in-house or you'll find me at my desk mapping out the following month's social media strategy. Some days I am hyper-focused on securing influencers for a campaign with the greater social and PR team, and other days I am analyzing reports to find new ways to grow and optimize our channels."

Saloni Mahendro, Associate Buyer, Bottoms and Outerwear: "No two days are ever really the same. But, each morning starts with a look at the homepage to see what's new and exciting, followed by a quick check of what sales were like the day before. The rest of the day can be filled with meetings, projects, vendor appointments, or a combination of everything—you never really know what to expect."

How do you express yourself through fashion at work?

Silvia Mazzucchelli, CEO: "I like to think of what outfit will make my day easier, give me confidence or comfort, or bring me luck—depending on what I am facing that day. Some days, I am black on black, other days, I need a pretty floral dress to take the edge off."

Julie Seltzer, Senior Print Designer: "I dress insane or insane to me. I love lots of color and am obsessed with music and vintage clothes. I know a lot of textile designers that wear a limited palette and simple clothes because they can't handle the visual stimulation overload, but that's not me. I'm a maximalist. I'm drawn to interesting, inspiring prints and color. I love vintage band t-shirts (real ones, not repros) and am an actual shoe addict. I can be pretty loud and I think the way I dress expresses the volume."

Lizz Wasserman, VP, Fashion: "Constantly. But really, working in fashion means you can wear whatever you want, whenever you want. I think because I work with a smart and talented group of designers, who also really bring their individual style to the office, it makes me up my game as well."

Cecilia Aranez, Creative Services Director: "I'm pretty low key and express myself by dressing louder than I am—lots of bright colors and animal print."

Angela Liu, Senior Manager, Social Media: "I love a minimal aesthetic and I tend to gravitate towards solid, neutral colors like beige and white. This leaves a lot of room for me to experiment with statement pieces like a cool blazer or a floral skirt. Because my style is so minimal, I also love expressing my style through my shoes. I have a solid shoe closet full of sneakers, heels, mules, and boots that I rummage through daily."

Saloni Mahendro, Associate Buyer, Bottoms and Outerwear: "I like being able to wear the things I have in a bunch of different ways. It's not uncommon for me to wear a snapback and sneakers one day, and then a pair of skinnies and heeled booties the next. I've always been pretty laid back, and I like my style to reflect that."

How does your work outfit make you feel?

Silvia Mazzucchelli, CEO: "I don't have 'work outfits.' Most of my closet is pretty eclectic. I mix it up in the morning depending on what is ahead of me that day. I like to look and feel like myself."

Julie Seltzer, Senior Print Designer: "I dress like my authentic self and that allows me to be open with my creative voice in the workplace. I think you can look put together and be taken seriously while still expressing yourself. I like people to know what they're going to get when they work with me—a lot of color, a sense of humor, easy-going vibes, and a serious love of fashion."

Lizz Wasserman, VP, Fashion: "I don't really have a work vs. non-work outfit. But, I'm always comfortable. I like knowing that myself and the other people in the office are working just as hard as a bunch of bros in suits or business casual. And that we look great doing it."

Cecilia Aranez, Creative Services Director: "My daily uniform is a dress and a pair of Vans or low block heeled sandals. It makes me feel put together even if I'm not feeling it."

Angela Liu, Senior Manager, Social Media: "My goal when it comes to my work outfit is for it to look and feel as effortless as possible while still looking put together. I love mixing casual streetwear pieces with more formal fashion pieces to give it that I-Didn't-Try-Too-Hard-But-I-Kind-Of-Did type of look."

Saloni Mahendro, Associate Buyer, Bottoms and Outerwear: "My go-to work outfit makes me feel put together, but still relaxed. Deciding what to wear each morning shouldn't be a difficult decision. So, my closet is full of some awesome basics that I can pair back to any of the standout pieces I own."

What do you wear to feel your most confident self at work?


Silvia Mazzucchelli, CEO: "I am rather extroverted and Italian. I like colors, prints, and experimenting with dressing—especially shoes. My dressing is expressive; I wear my emotions as my second skin. Some days, I need to dress the part of a confident, serious, professional businesswoman. Other days, I can indulge in feminine prints and dressing. Style helps me to be my best self."

Julie Seltzer, Senior Print Designer: "Normally, if I'm really feeling myself/need a boost of confidence for the day, I'll throw on a wild pair of tight pants (they make me sit up straighter?), colorful/metallic and/or clear shoes, gold jewelry and a 'special' top with interesting/surprising details. I celebrate clothes for being self-expressive and for reflecting the vision of their maker. When I wear pieces that are special on their own, but all-at-once, it makes me feel more confident in my creative vision because I'm equally inspired by every single piece I'm wearing."

Lizz Wasserman, VP of Fashion: "Anything. I feel like it's 'me' that makes me feel confident. Clothing wise, that could be a lot of different things. If I have to do more of a business-y type meeting, I will probably wear a heel. But, I've also worn an old men's mechanic suit and Chuck Taylors."

Cecilia Aranez, Creative Services Director: "A cute pair of shoes and a brightly colored dress are an instant mood booster. No matter what happens throughout the day, I'm confident my shoes are cute."

Angela Liu, Senior Manager, Social Media: "I always say I need two things in life: lipstick and a pair of really killer shoes. There's something about throwing on a gorgeous pair of heels or boots and walking out of the door that just starts my day in a better way. I walk with more confidence and my stance is more powerful when I feel and look my best. Anytime I have a big meeting, I know I need to up my shoe game for that day."

Saloni Mahendro, Associate Buyer, Bottoms and Outerwear: "Black or blue high-waisted jeans, an oversized t-shirt, and a kick ass pair of shoes—flat or not. It depends on the day. There is nothing more satisfying than wearing something you love."


How much does a fashion brand's purpose and mission impact your purchasing decisions?

Silvia Mazzucchelli, CEO: "I think inner values are more important than a brand's mission statements. I believe in the power of women, equality, and opportunity. I would never wear a brand involved with exploitation or discrimination. I personally like the idea of secondhand finds and democratizing luxury. I love the new movement of recyclable fashion. I cherish a vintage Fendi bag that has been bought and resold three times and gave joy to three owners."

Julie Seltzer, Senior Print Designer: "I try to either buy vintage, small-business, or female-owned pieces nowadays. I think the consumer is hyper-aware of the impact of their patronage to fashion brands. I love ModCloth because we've always believed, as a company and as individuals, that body positivity and diverse representation is one of the most important needs in the fashion industry today. I'm really proud to work for a company who pushes for diversity and representation in such a big way. Also, seeing people of all shapes and sizes wearing things I helped design makes my heart soar."

Lizz Wasserman, VP, Fashion: "A lot. They affect my working decisions as well. I don't shop fast-fashion. I buy for quality and for longevity. I loved being hired by and working for Susan Koger, who co-founded ModCloth and love supporting female-founded brands and companies. As a person working in fashion, it's important to make sure the people making the clothes we designed are being treated fairly (and as a shopper). At ModCloth we've introduced some eco-friendly fabrics (like organic cotton tops and recycled polyester in some of our denim) and changed our shipping practices to be more eco. These things are important to me personally and there's a lot more we can do. Since ModCloth is so inclusive, I've really noticed when other brands aren't. That's definitely a turnoff. But, it seems to be improving over the past couple years."

Cecilia Aranez, Creative Services Director: "It comes into play more and more as a reason to make or not to make a purchase. With so many options to shop out there. I am definitely more mindful about what the brands I'm shopping with stand for—sustainability and inclusivity are currently top of mind."

Angela Liu, Senior Manager, Social Media: "It's an intentional decision to purchase from brands that have a strong mission to support women. It's also something I am aware of as a consumer. Whether it's size inclusivity, supporting female creatives or giving back to women's resources—I want to know (or at least think) that my purchase is making an impact."

Saloni Mahendro, Associate Buyer, Bottoms and Outerwear: "There are so many brands out there today so when it comes to buying clothing, I like to purchase things from brands whose values align with my own. Quality shouldn't be compromised by affordability, and so I like to spend money on things I feel are worth it from all angles."


How are you voting with your wallet this Women's Equality Day? Why is it important?

Silvia Mazzucchelli, CEO: "ModCloth collaborated with one of our favorite female artists, Steffi Tsai, to create a limited-edition sweatshirt in honor of Women's Equality Day. One hundred percent of the purchase price of these sweatshirts is going to She Should Run—a non-profit dedicated to supporting women leaders considering a future run for office—so, I'm obviously buying at least 20 of them. I'm grateful to work at a place like ModCloth, a company that believes in empowering women as much as I do. It's important to me and to the brand to support female-led businesses and initiatives because when women support women, we all win."
Julie Seltzer, Senior Print Designer: "I will most likely make donations to various organizations supporting women and human rights. There are so many people in this country right now who do not have a voice, or don't have the privilege of speaking up. It's important to show up with not just our wallets but with our acknowledgement and voices, to help these people (immigrants, POC, LGBTQ+ people) and let them know that they have every right to safety and resources. If I do end up 'shopping' for myself on Women's Equality Day, I will most likely only patronize companies who share this outlook and will be donating portions of their proceeds to those in need."

Lizz Wasserman, VP, Fashion: "On Women's Equality Day, I'll be using my wallet to support organizations that help women and protect their rights to equality, safety, and resources. Every other day that week, I'll be shopping my fall must-haves on ModCloth.com."
Cecilia Aranez, Creative Services Director: "It's so important as women to support other women and celebrate our successes, especially in this industry. This Women's Equality Day, I'll be on the lookout to support women led businesses and businesses that support women's rights."

Angela Liu, Senior Manager, Social Media: "I think it's important every day to make a conscious effort to support women-owned businesses. This Women's Equality Day, I am also looking to purchase from companies that are giving back to non-profits that serve women and female youth. As women, we are directly and indirectly responsible for our future generation of female inventors, leaders, scientists, politicians, and more. It's important to show up and encourage young girls that they can and will reach their full potential."

Saloni Mahendro, Associate Buyer, Bottoms and Outerwear: "You'd be hard-pressed today to not find a female owned/operated brand in any industry. Fashion, beauty, food—we're making waves across the board. Showing your love to these brands should happen all year round, but on Women's Equality Day, it should be a no-brainer!"
Shop Our Top 5 Favorite Pieces From the New ModCloth Collection: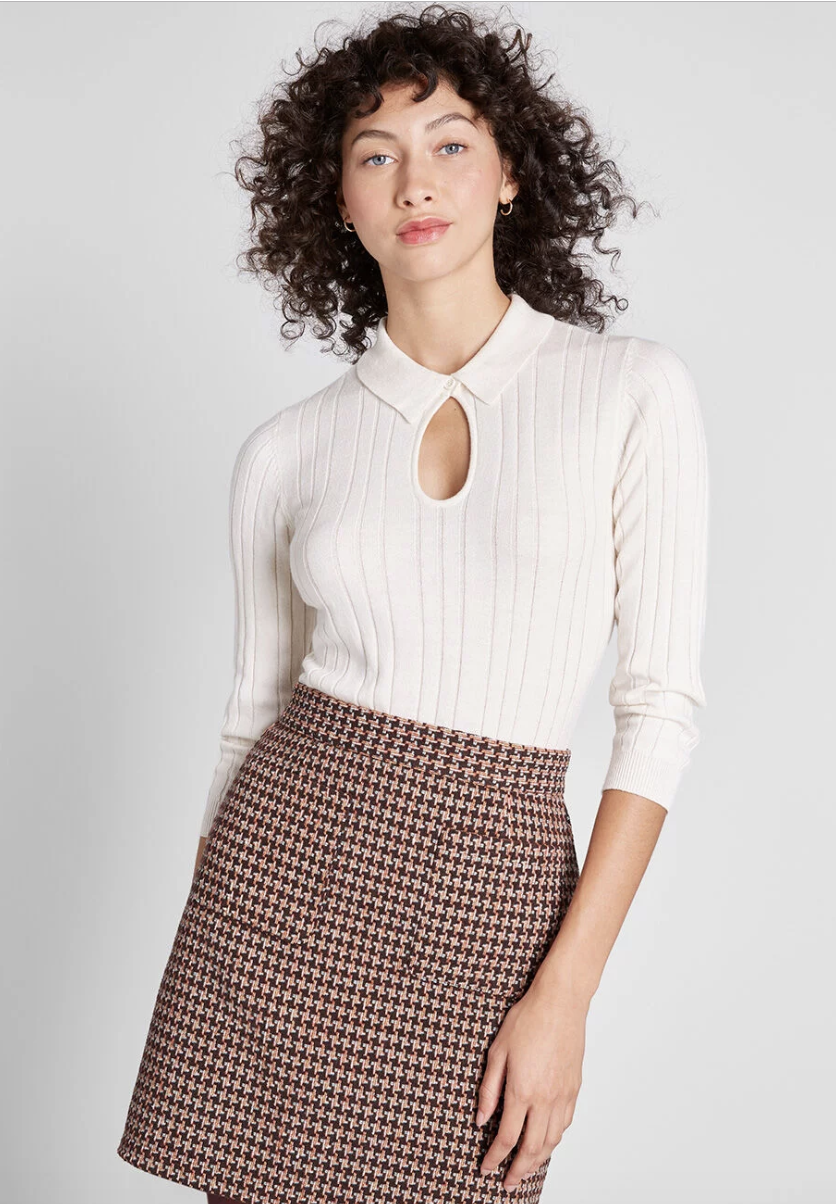 ModCloth Informed Ensemble Skirt
$59
These A-line skirt in the classic houndstooth motif print is the best kind of 70's throwback.
ModCloth Bold Notion Tie Waist Jumpsuit
$89
This jumpsuit will be your next desk-to-dinner go-to. Just add a red lip for drinks after work.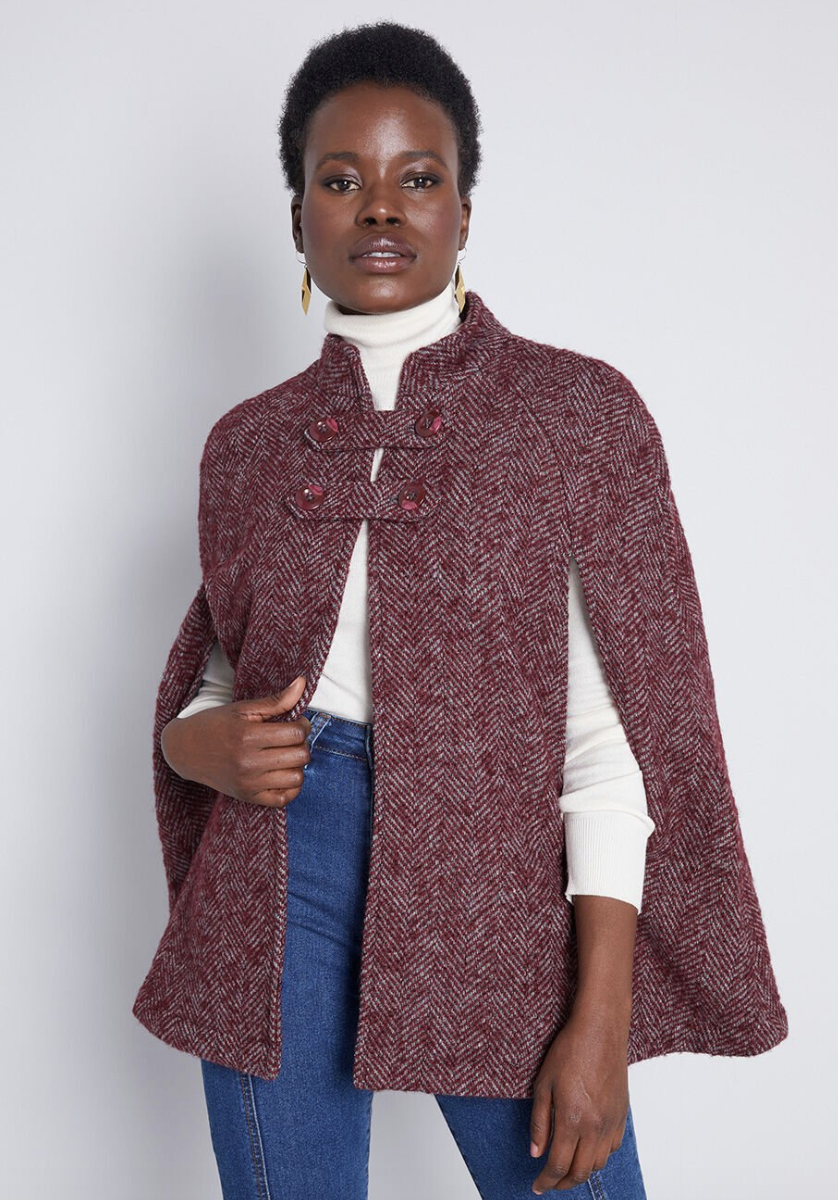 ModCloth Pardon My French Quarter Cape
$89
This vintage-inspired cape pairs perfectly with your office slacks or with jeans on the weekend.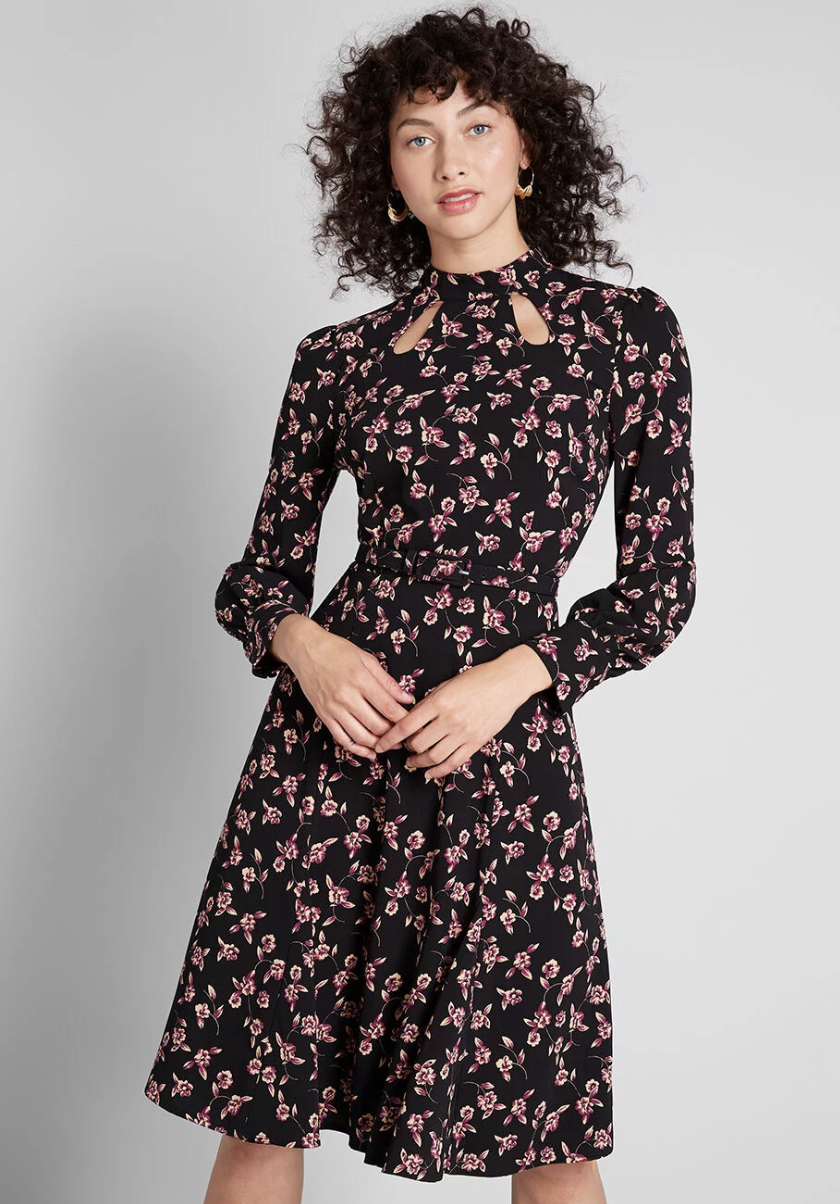 ModCloth Enjoy Every Moment Midi Dress
$89
We love the whimsical floral motif of this chic A-line dress. Throw a blazer over it for major boss vibes.
ModCloth Marvel the Masses Tie-Neck Blouse
$55
Wear this black blouse to your next job interview and show them who's boss.
To shop the complete Show Them Who's Boss collection, visit ModCloth.com.

*For each "Elect More Women" long-sleeved sweatshirt sold online at ModCloth.com between August 26, 2019 and November 11, 2019, ModCloth will donate 100% of the purchase price ($45.00) to She Should Run, up to a maximum of $15,300. Supplies are limited. She Should Run's mission is to expand the talent pool of women running for office in the U.S. by providing community, resources, and growth opportunities for aspiring political leaders.