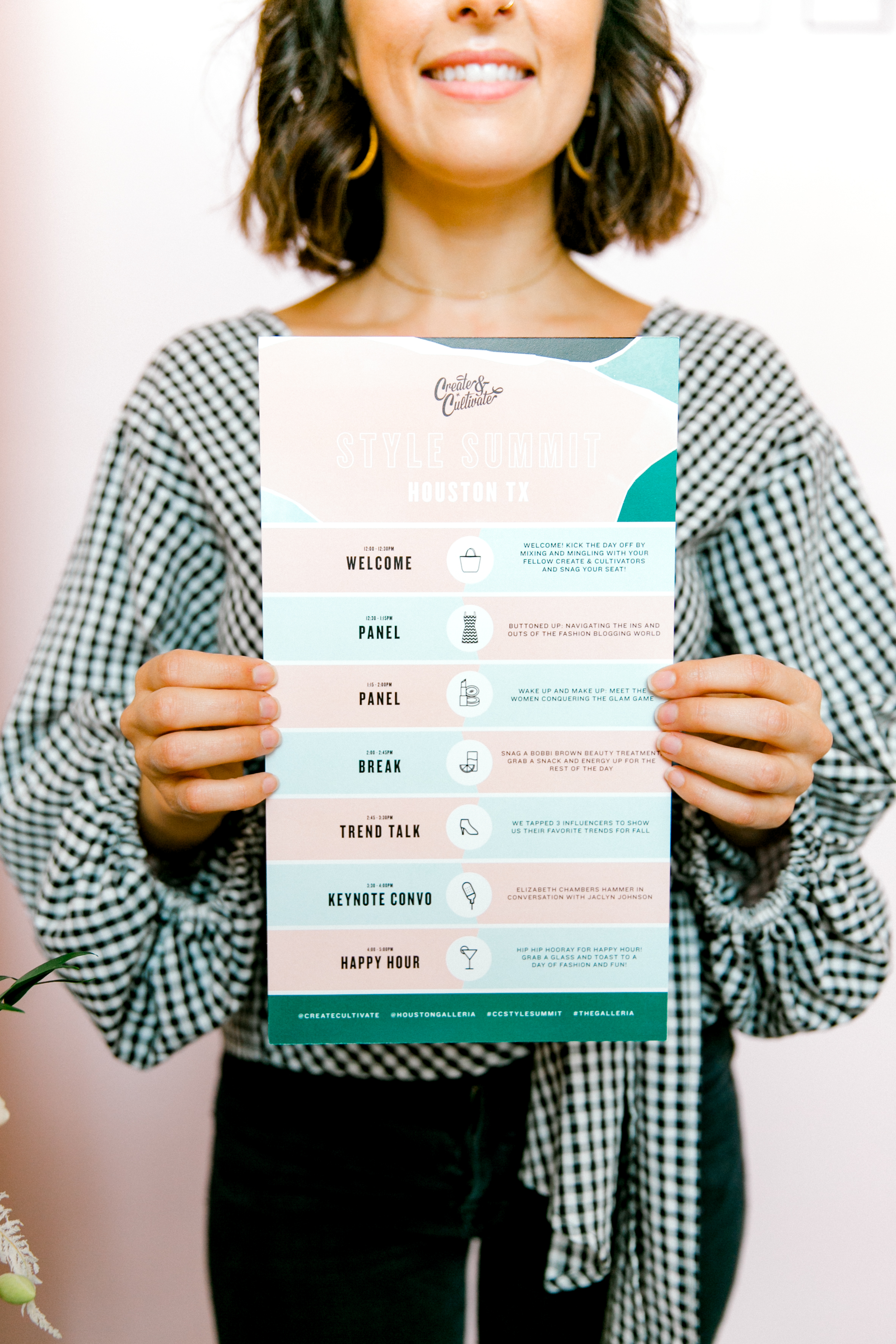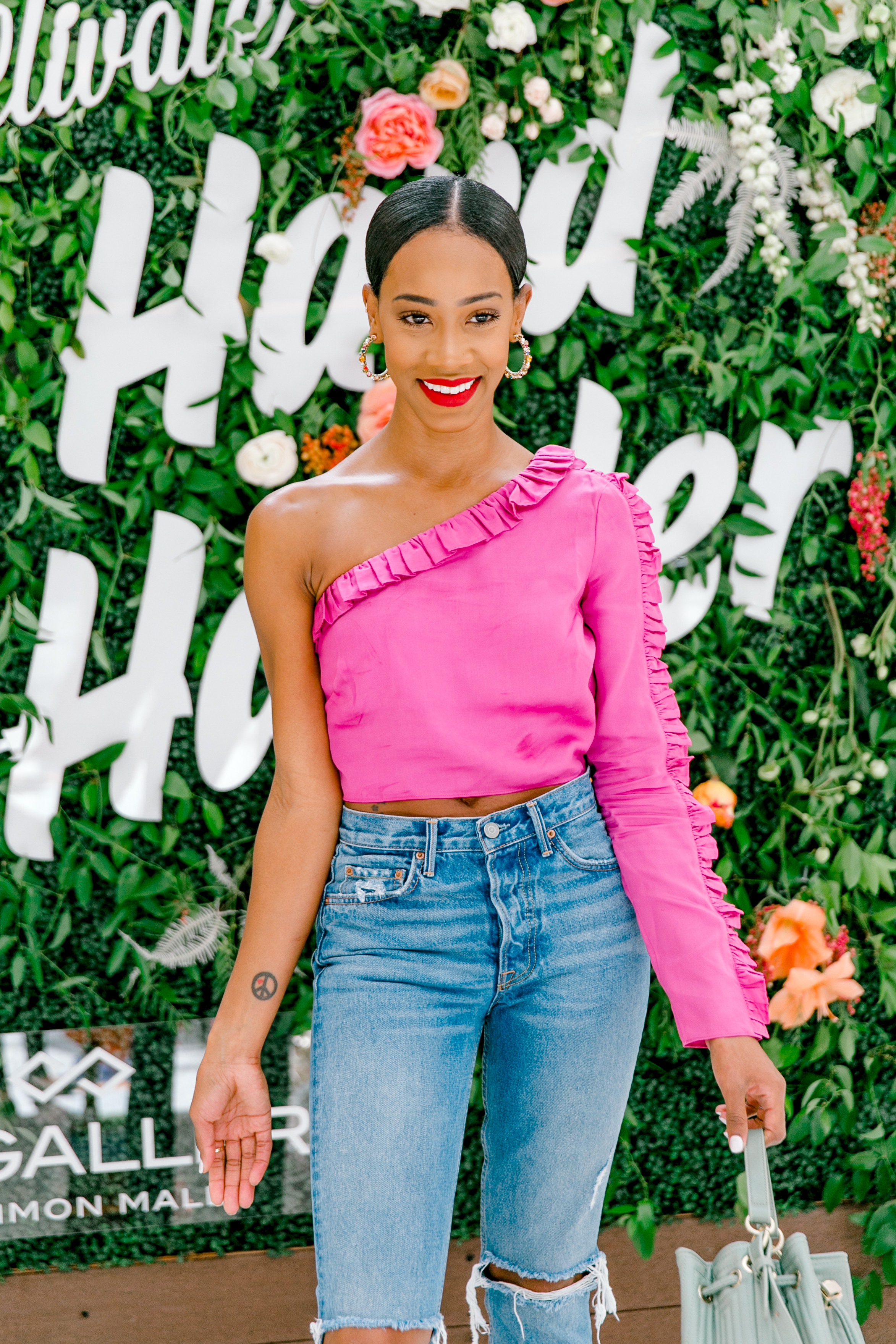 Ladies coming together to inspire one another is what we preach here at C&C. But what if a ton of women, influencers, and CEOs came together to spend a Saturday talking all things business and female empowerment? Doesn't that sound even better? Well, that's exactly what happened at our third Create & Cultivate Style Summit at the Houston Galleria this past weekend.
From Courtney Kerr keeping it real about dealing with the haters to Sona Gasparian and Jaserah Asad dishing on diversity in beauty, it was one for the books. Founder and CEO of Bird Bakery, Elizabeth Chambers, shared everything that it takes to build a successful team and so much more.
Before the big event, guests enjoyed a happy hour at the Coach store on Friday evening and received a complimentary Houston skyline stamp with any purchase from the store.
When it was time for the official Style Summit to begin, the first 150 guests received a gift bag from all of our favorite brands. TONI&GUY provided hair touch-ups and braiding for our attendees, and Bobbi Brown's best-selling products were present for everyone to try. The day closed out with another happy hour courtesy of Chandon and Crown Royal for even more mingling and networking with badass women.
Keep on reading for more takeaway moments and inspiration from our rock-star roster of entrepreneurial panelists.
During our Buttoned Up panel with influencers Stephanie Taylor Jackson, Ashley Seippel, Meggan Morehead of Somewhere Lately, Carrie Colbert, and Krystal Faircloth we learned the ins and outs of being a fashion blogger.
With Instagram being such a powerful marketing tool, Carrie has managed to garner a significant following thanks to her vibrant color scheme and consistency. Once you hit that 10k follower count (when the swipe-up feature becomes available), "You have to give people a reason to swipe up," she said. As for working for free, it's not something she's down with now that she knows how blogging works. "Please don't work for free, this is a business," she said.
Stephanie Taylor Jackson is one of the bloggers in the business who also has a full-time job. The skills she's learned in the luxury retail space have transferred over to her blogging. "My day job helps me be sure that I'm investing my time in the right things for my job," she explained. After all ladies, time management is everything.
As you can imagine, an essential part of being a successful blogger is staying organized. But with so many planning tools available online and on our phones, have traditional organization methods lost their touch? Apparently not! Ashley Seippel still swears by them. "I color coordinate and use a physical calendar to stay organized," she explained.
Anyone who follows Somewhere Lately knows that the two masterminds behind the blog are actually bi-coastal. Meggan who lives in Dallas joined us at the summit and shared how she makes her everything work with her business partner living in New York. No surprise here, but communication is key!
You've undoubtedly heard bloggers speak on how authenticity and standing out are part of becoming successful. But rather than focusing on being "different," you need to better understand exactly how you're different. Krystal Faircloth of A Pinch of Lovely explained: "Being different is great, but you have to know how you're different. Knowing your skill set will make you stand out."
During our Wake Up & Makeup panel Madison Payne, Sona Gasparian, Courtney Kerr, and Jaserah Asad spoke on all things beauty and what they've learned as beauty tastemakers and business owners.
It's important to face rejection and career disappointments head-on, and who better to explain that then Courtney Kerr. As one of Texas' biggest influencers, she's known for her straightforward advice and transparent content. Her response to dealing with rejection was a flawless one. "Don't you think it makes you stronger when you get rejected?" Touché Courtney.
With IGTV blowing up, what's one of YouTube's biggest stars supposed to do? Sona Gasparian has over 750k subscribers on her channel, and she doesn't plan on moving all of her content to the newer Instagram platform. "I wouldn't say abandon YouTube yet because the community there is so special and so engaged. It's not the same as IGTV," she explained.
Up and coming influencer Jaserah Asad is breaking boundaries by being one of the few hijabi bloggers in the space. Did we mention she's also a petroleum engineer? Yeah, she's a boss. She lets brands know that her faith is very important to her from the jump. "If I have to sacrifice my faith or change my looks, that's a deal breaker for me when it comes to working with brands," she said.
Madison Payne is known for keeping it real with her followers. Seriously, she takes them behind the scenes of any product or treatment she tries, no matter what it is. So when you're an open book, how do you decide which brands to work with? "I work with brands who will let me try out the product before posting about it. Authenticity is important for me," she explained.
Our last conversation of the day was with our keynote speaker, Elizabeth Chambers. As the founder and CEO of the hugely successful Bird Bakery and a TV host and journalist, she's made her mark in different industries. To find out more about how Elizabeth manages her career, a team and , click here.
Did you attend our Style Summit? Let us know what your favorite part was in the comments section!
MORE FROM OUR BLOG