There is no better way to celebrate the warmer months than with a glass of Chandon Sparkling Wine, a road trip up the California coast, and conversations championing women we admire. We were lucky enough to partner up with Chandon and STARZ this summer to bring our community a killer Summer Speaker Series in our favorite California cities: San Francisco, San Diego, and C&C's home turf—Los Angeles!
Packed to the brim with like-minded women and Chandon AluMinis these three summer nights paved the way for inspiring conversations around cultivating our craft. Individually, everyone brings something to the table. Whether that be a knack for numbers, philanthropy, female-empowerment—the list goes on. But together, we create a stronger force in pushing the status quo and harnessing our power to make waves of change.
With the help from our friends at Chandon, we hosted paneled conversations made to inspire attendees and create an ever-lasting community. Nights filled with mic-drop moments, yummy drinks, and tasty treats? That's right. We hope you were there to enjoy! But if you couldn't make it, we've got you covered with the raw highlight reel below. Be sure to check out some can't-miss quotes by game-changing actors from STARZ Original Series during our Summer Speaker Series. Cheers!

SAN FRANCISCO

Panelists:
Pauline Lhote | Head Winemaker, Chandon
Ashlee Marie Preston | Media Personality, Civil Rights Activist & Creator of #ThriveOver35 Campaign

Moderator:
Jaclyn Johnson, CEO, Create + Cultivate
"Bringing in diversity for me is very, very important."
—Pauline Lhote | Head Winemaker, Chandon
Pauline:

On starting a career from scratch...
"There was never one person I could relate to that was a woman leading a sparkling company. So, not having that vision was always very difficult."
"For me, it was about perseverance and showing that I can do it. It's about tenacity. And now I feel like I can actually represent women and help women to get into this position."
On the importance of diversity for success...
"Diversity on the team as well. Whether it's men and women or cultural diversity. It brings new ideas. Like in terms of developing a new product. I feel like we're able to brainstorm a little bit better."
"Bringing in diversity for me is very, very important."
"My goal is to inspire and encourage people to believe in themselves."
"My personal goal will be to be better at work and life balance."


Ashlee:

On intersectionality and it's complexities...
"For those who may not know, intersectionality describes multiple threats of discrimination when an individual's identity overlaps with multiple marginalized groups."

"As a black trans woman, I never experience discrimination on a single axis."
"I experience everything at the intersection of race, gender, socio economic disparity so I felt like all the cards were stacked against me."

On proper representation and humanization....
"The girls that looked like me were on an adult entertainment sites or they were standing on the local corner by the donut shop."
"I got really sick and tired of people presenting us as these hyper-sexualized characters that existed to satisfy a man's libido. We're so much more than that."
"I wanted people to see the kind of people I knew out there. I think that visibility is important."

"Even though I didn't get that kind of mentorship, I get to show people what the possibilities look like."

On being unapologetically one's self...
"Don't be afraid to take up space. You should never have to shrink your fatness, your blackness, your brownness, your transness, your queerness."
"You deserve to hold and occupy whatever space you want to be in."


SAN DIEGO

Panelists in Conversation:
Anne-Sophie Stock | Vice President, Chandon
Sonja Rasula | Founder & CEO, Unique Markets
"Always take the small wins."
—Anne-Sophie Stock | Vice President, Chandon
Anne-Sophie:
On her career mantras and advice...
"Always take the small wins."
"Obstacles can either block you or you can look at it as a challenge."
"You need to take a risk, every time I do that, I'm rewarded."
"Working is great. Networking is better. Make friends. I make friends all the time. I build relationships."
"Sharing. Share. Tell somebody your struggle. Then tell somebody your idea to overcome the struggle."

On being a working woman...
"I feel that being women, amongst women, supporting women, is very rewarding."
"Ask for help. There is no perfection. Being a working mom, I was focused on being perfect and I didn't have the courage to ask for help."
"The biggest challenge for me was about how do you build your family while you're building your career. That's tough."


Sonja:
On the inspiration behind her career journey...
"That was what led me to start my own company, not being in control of my narrative."
"I really wanted to have an affect on my community and on my economy. I wanted to help all the entrepreneurs and the side hustlers."

On transcending our talents to empower others...
"I would rather know that my real power,what I'm really doing this in world is empowering and inspiring others."

On words to live by...
"Focus and see the positive in every situation. Don't let the negative get you down."


LOS ANGELES

Panelists in Conversation:
Susan Caudry | Estate Director, Domaine Chandon California
Ellen Marie Bennett | Founder, Hedley & Bennett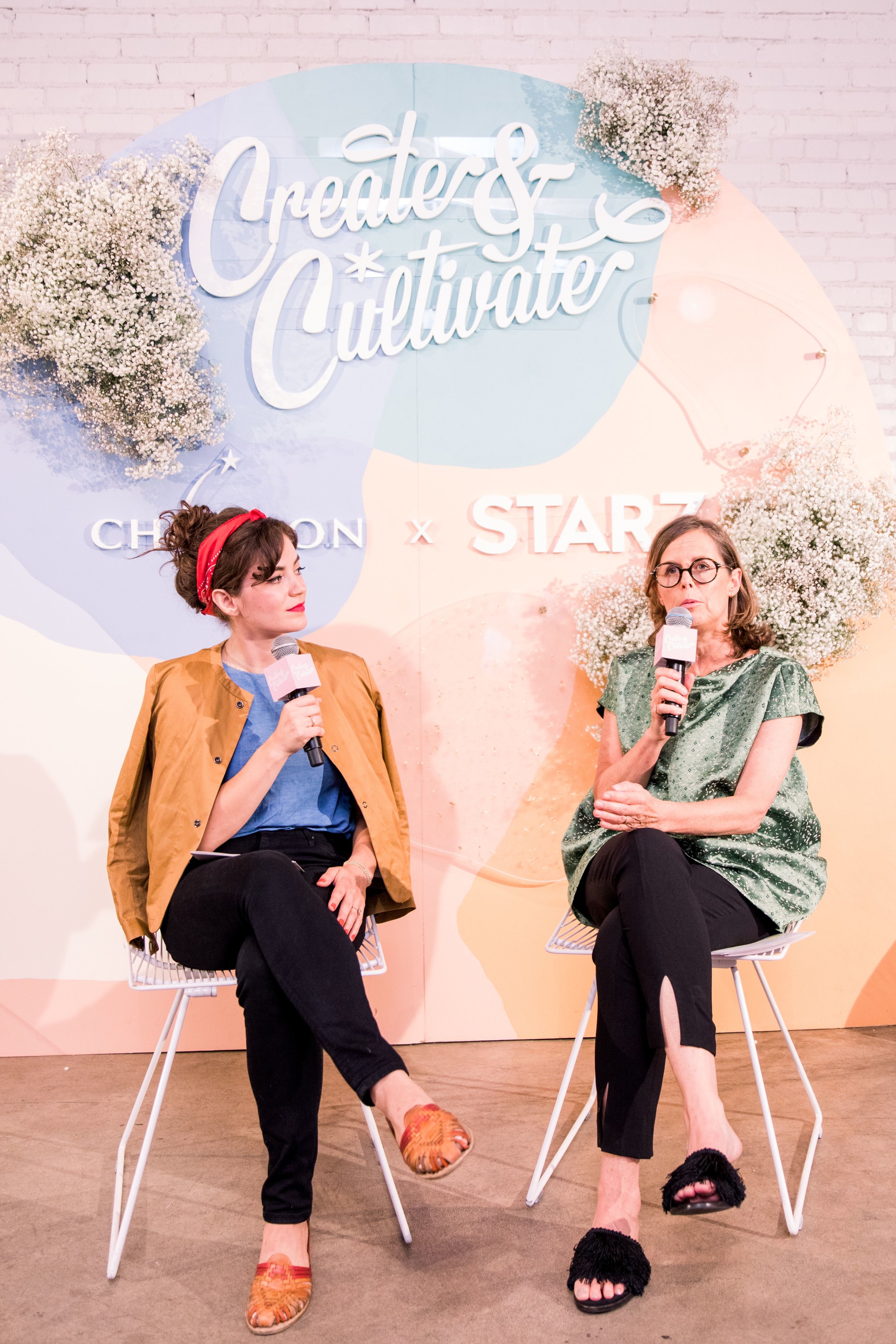 "I've had a lot of fun but I've worked really, really hard—you suck it up."
—Susan Caudry | Estate Director, Domaine Chandon California
Ellen:
On the reality of having her own business...
"When you start a business you're thinking: this is gonna be so fun and sexy. What you don't realize is you're about to embark on the most serious volume of responsibility you have ever had in your entire life."
"There's so much responsibility tied into it… you just have to be willing to grow and pivot."
"A lot of times you see the story once it's successful, but they don't show you the winding road to get there."
"It is so unsexy. In order to survive, you truly need to do something that you truly, deeply enjoy."
"Shit's gonna happen. Period. But you just push through it and figure it out and get onto the next hurdle."
"We are in this era of such egregious amounts of content and it's a gift if you can put your blinders on and find the content that will help you grow. That access is there and it's up to you. For the first five years I just had my blinders on and I kept running."

On real life learnings...
"College and school don't teach you resilience. Life gives you resilience."
"Earn what you want, don't just sit around and be sad and have FOMO because the people in your life are doing what they want. They may not show you, but they got out of their comfort zones, and that's what you need to do."
"You are your own solution."

On the misconceptions of women business owners...
"If you had work ethic, you stuck around. If you didn't have work ethic, you were out—male or female, it didn't matter."
"I really started to feel the men vs. women battle when I went into business. I would have people in saying 'where's the owner?'"

On starting a business from the ground up...
"Find out all the ways you can fund a business. There are so many opportunities for women."
"What is your point of view? Own it, cultivate it, and craft it. Find your special sauce, what is our thing that's going to differentiate you from others."


Susan:
On her career path...
"I went sideways and sometimes backwards. It wasn't structured, I didn't have a plan and it wasn't like 'this is how I'm going to map out my career.' I didn't have a map, I just took interesting opportunities."
"It was a zig-zag. Some people are so structured and organized and I respect that... I just wasn't."
On what it means to be a hard-worker...
"I've had a lot of fun but I've worked really really hard. You suck it up."
"You do the task that's required of you because someone else relies on you to do that. 99% of the time, it is not glamorous."
"You deserve the next step that you receive. You have to want it and earn it. No one's going to give it to you on a platter, and if they do, you don't deserve it."
"Stand in front of your mistakes. Take responsibility for your work. Ask for feedback and be prepared to take it."
"Leadership in three words is respect, diversity, and responsibility.

On guilt...
"It's kind of poisonous. Try and reserve it for the things you should really be guilty about."
"Swap guilt for responsibility. It's another way of looking at the same problem."

On owning a business...
"Learn how to quantify the value of what your business might be, because you're going to have to sell someone on it"
"Do something that's authentic. People are going to see through your bullshit."

On diversity…
"You learn, you adapt and you learn to listen. If someone is not like you, you have to force yourself to change how you absorb what they're telling you."

"You need to read. You need to travel. You need to be respectful and you need to have diversity."