We know how daunting it can be to start a new business, especially if you're disrupting an industry or creating an entirely new one. When there is no path to follow, the biggest question is, where do I start? There is so much to do but before you get ahead of yourself, let's start at the beginning. To kickstart the process (and ease some of those first-time founder nerves) we're asking successful entrepreneurs to share their story in our new series, From Scratch. But this isn't your typical day in the life. We're getting down to the nitty gritty from writing a business plan (or not) to sourcing manufacturers and how much they pay themselves, we're not holding back. If you want to know how to start a business, you've come to the right place.
Danielle Nadick Levy loved seeing her dermatologist, Dr. Nancy Samolitis but the experience always felt clinical, cold, and uncomfortable—read: ripe for disruption. So, at just 27-years-old, Levy decided to create an entirely new concept in skincare that elevates the patient experience and ditches the traditional lab-coat style. Combining her marketing experience in interior design with her love for business development, Levy partnered with Dr. Samolitis to create FACILE, a dermatology and boutique in West Hollywood, Los Angeles.
Think plush spa-like aesthetic with velvet curved sofas and layers of dreamy neutral tones, warm timber flooring, and the scent of Byredo candles infusing the air. This first-of-its kind dermatology has changed the game and thanks to its very Instagrammable appeal, it has grown organically through word-of-mouth. In fact, it's been so successful that Levy is already working on their third location as well as a comprehensive skincare line.
We caught up with the young founder to chat get down to the nitty gritty on how she built this business from the ground up including what she pays herself and why she did write a business plan.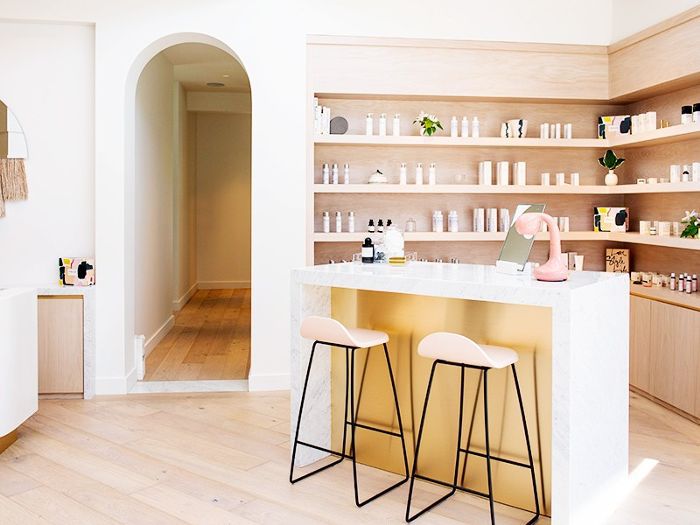 Create & Cultivate: Did you write a business plan? If yes, was it helpful? If no, what else did you use instead?
Danielle Nadick Levy: "I did write a business plan. I'm a very visual person so for me it was important to see everything on paper prior to executing. It wasn't too extensive and I think some people tend to overthink this part of the process. If a business plan is too daunting or holding you back from moving forward then there is nothing wrong with foregoing it. I used mine as a guideline throughout the start-up process and it helped when I was explaining the plan to others."
How did you come up with the name? What was the process like?
"This is my favorite part of any business idea that I have. I love the creative process of coming up with a name. My method is usually the same across the board. I'll write down words or phrases that embody the brand and company ethos. Once I have all of these words in front of me I try and choose the strongest one that represents them all. For FACILE, I choose the word 'easy' and since I knew this brand was chic and sophisticated I looked up the French translation of easy and voila, FACILE. I knew this was the one the second I saw it. It looks like 'facial' at first glance, and it means easy in almost every language. This led to our brand message of 'good skin should be easy.'"
What were the immediate things you had to take care of to set up the business?
"The first thing I always do is purchase the domain name and now Instagram handle since that's such an important marketing tool. I happen to own about 15 domains currently. From there all the necessary legal contracts and documents were drafted and signed. We went ahead with the trademark process immediately after incorporating."
What research did you do for the brand beforehand? Why would you recommend it?
"I did a ton of market research. I did not come from a medical background however we knew we didn't want the space to feel medical so I researched other service-oriented businesses across all different industries to see what they were doing. I took notes on the things I liked and the things that I would improve upon. FACILE is the first of its kind which presents a ton of advantages but also some challenges when we were just starting out. There wasn't an existing model for us to expand upon and make our own instead we created everything from the ground up which is why researching as much as possible was critical."
How did you find the manufacturer/production facility that you use? Did you have any bad experiences? What did you learn?
"We worked with a consultant who is a veteran in the skincare/makeup industry to produce our in-house skincare line. She helped introduce us to multiple manufactures and walked us through the process so we could choose the best fit. I always like to see case studies and in some cases I was able to speak with other clients of theirs, that's the best way to understand what it's like to work with them."
Did you self-fund the company? Did you raise seed money or initial investment money? Why/Why not? What would you recommend?
"We have been completely self-funded up until this point. We are about to close a Series A which is really exciting because it will allow us to grow and scale in a way that we just wouldn't be able to if we continued to self-fund. In the beginning we were fortunate enough to not bring on outside investors which allowed us to truly build value in the company and demonstrate proof of concept. We are now receiving a much higher valuation because of this."
How much did you pay yourself? How did you know what to pay yourself?
"Once the company started to make money and become profitable, we were able to take anywhere from 20-28% of gross revenues. We base this off the amount of money we need to comfortably operate the business."
How big is your team now? What has the hiring process like?
"We have a team of 17 people and growing. The hiring process begins with our managers who vet any potential candidates, once they believe someone is a great fit they meet with other members of our team, myself and Dr. Sam. Since we're still small and all work very closely together we try and make sure that everyone feels comfortable and good about a new hire—this was something I learned along the way.
I did not have prior hiring experience; however, I was a pro interviewee and I took notes on what I liked and didn't like about past interviews. I tried to emulate that throughout our interview process. For certain positions I like to get out of the office and get a coffee with the individual, this allows me to see what they're like in a more casual setting, when it's outside of an office you can get a really good gage on whether you'd like to spend time with this individual. At the end of the day you have to enjoy working with the people you bring on or else it doesn't work.
Did you hire an accountant? Who helped you with the financial decisions and set up?
"In the very beginning I leaned on my husband who has had a few very successful companies and understands the ins and outs of the financial requirements to start up. I also had my father who was a trader at the Mercantile Exchange in Chicago and invests in early stage startups. I had zero experience with creating pro-formas and five-year projections so I have to give credit where credit is due. We hired an outsourced CFO, who is a CPA and helps with most on-going financial queries."
What has been the biggest learning curve during the process of establishing a business?
"I was really young when I first started this business and although I had attempted to start other ventures this was the first one that actually came to fruition. In the beginning I was stubborn and felt that I needed to prove my worth, so I wasn't as open to valuable feedback as I should have been. This is something that has completely changed for me and since doing so I've been able to grow the business that much more. I would also say patience is critical. I am inherently not a patient person and I was constantly trying to grow the business as quickly as possible. This led to a few mistakes and has since served as an incredible leaning experience."
Do you have a business coach or mentor? How has this person helped? Would you recommend one?
"I have both my husband and father to lean on throughout this entire process. I have also made incredibly meaningful relationships with other business women whom I truly look up to who have been invaluable to me. I also could not have done any of this without my partner, Dr. Nancy Samolitis aka Dr. Sam she has been an incredible person to have by my side throughout everything. There have been some challenging moments throughout this journey that I would not have gotten through without her.
"I think if someone doesn't have a network to lean on or a business partner, then hiring a business coach could be very helpful, however I do know from personal experience that there are so many wonderful people out there who are more than happy to lend some advice, you just need to ask."
How did you promote your company? How did you get people to know who you are and create buzz?
"I did have some experience in marketing prior to starting this venture. We did have a unique situation in that from day one my business partner was a well-known and respected dermatologist in the community, so from day one we had some clients to build on. Since we are situated in an incredible location, we did a lot of grass roots marketing from day one.
"We did a ton of brand partnerships and got involved in as many events as possible. We also placed a huge emphasis on social media. We hired the team at Something Social to help with our Instagram and facilitate partnerships with influencers and meaningful individuals that would help bring awareness. We also had a public relations team (IHPR) that helped to get the word out through online and print publications. The most impactful marketing we've had, though, has been word-of-mouth, we make sure that the client experience was consistently great in order to create that organic buzz.
What is one thing you didn't do in the setup process, that ended up being crucial to the business and would advise others to do asap?
"Take your time with hiring. In the beginning months we were brand new and understaffed so we would bring on individuals in a pinch that may have not been the best fit for one reason or another. The reason we are so successful today is because of our team. They are the backbone of this company.
"There was a point in the beginning where I was working the front desk and answering the phones, which was incredibly inefficient because I couldn't focus on growing the business, but we didn't have the right team. Make sure you bring on the right people for the right reasons and take your time with hiring."
For those who haven't started a business (or are about to) what advice do you have?
"Ask for help! There is no shame in asking others for advice, help or their opinion on something. Although you are the expert of your business and idea someone looking from the outside in might be able to see something critical that you're missing. You have to be willing to pivot and adapt if something isn't working.
"Try and remain patient, keep on track with your goals and your plan but know and be okay with the fact that it may take time. Be kind to yourself give yourself a pat on the back and be proud you're doing something or about to do something that is incredibly difficult, scary and that much more rewarding.,"
Anything else to add?
"I am always happy and flattered when individuals reach out to me for advice. I am certainly not an expert of everything, but I may know someone who is and can point you in the right direction. Feel free to reach out – I'm happy to help."